Afterschool Clubs
After school clubs are designed to help develop a child's talent, skill and interest. The clubs often combine both recreational and educational factors and are created to help keep children active and interested in learning. At after school clubs children are able to share their interests with other kids allowing them to make new friends and improve their confidence levels.
During the year we have various after school clubs including:
Film

Lego

iPad

Circus Skills

Art & Craft

Baking

Gardening

Ukulele
If you would like to help run a club or be involved please contact school.
Milburn School Film Club - Every Friday after School, 3:45pm till 5:15pm
The children really enjoy film club and it is now open to primary school age children from Milburn village.
The children choose the film each week, some of the films we have watched recently are Bugs Life, Monsters Inc and The Jungle Book.
The cost is £1.00 per child, per week, which includes a drink and snacks (usually popcorn and crisps)
There are a minimum of 2 adults in attendance and at least one who is DBS checked and have completed Safeguarding Levels 1, 2 & 3 training.
Places need to be pre-booked by Wednesday each week. If you would like your child to come along please contact School for a registration form.
Milburn School Film Club Wins National Competition - Take Paddington on an Adventure (December 2014)
The winner of Take Paddington on an Adventure competition is Alex, 10, from Milburn Primary School in Cumbria, whose magnificent entry not only featured Paddington on an adventure to ancient Egypt, surrounded by pyramids and the Sphinx, but also included an ingenious game of 'Find the marmalade sandwiches', which were cunningly hidden throughout the picture. We're sure Paddington would have enjoyed hunting down his favourite snack as much as he did the sight of the pyramids!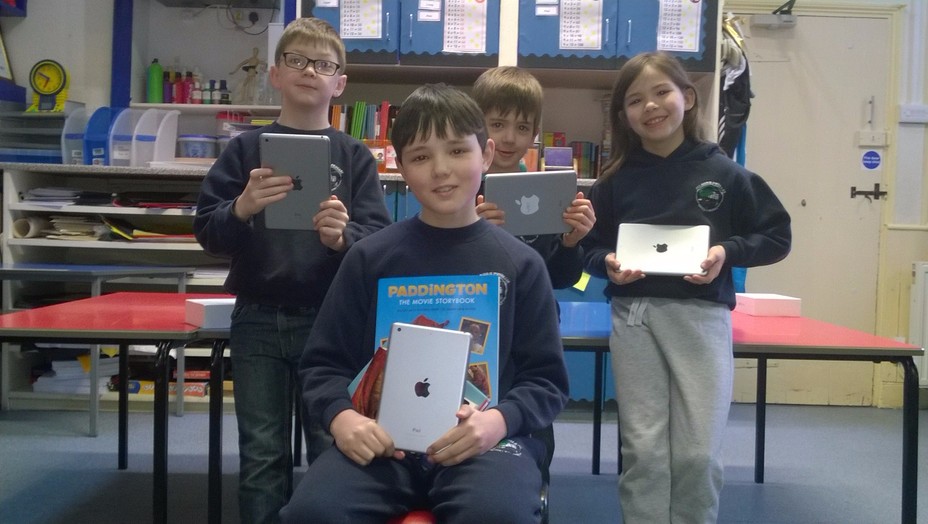 Congratulations to Alex, and to Milburn Primary School, who won 4 x Apple iPad Minis and a range of Paddington books for their efforts.